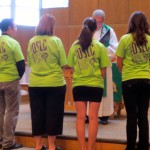 As many of you know, 5 youth and 3 adults from OSLC are traveling to New Orleans for the Lutheran church's National Youth Gathering this week (July 17-22). We hope you keep us in your thoughts and prayers, as we participate in this unique and wonderful event. In addition, we invite you to follow us as we go. Here are several ways that you can join us for the journey:
1. Go to the OSLC Facebook page (https://www.facebook.com/oslcissaquah) and "Like" us. We will be posting to the church Facebook page throughout the week and sharing our experiences. If you are on Twitter, you can also follow us there (http://twitter.com/oslcissaquah).
2. Check out our nightly video updates by visiting our YouTube channel (http://www.youtube.com/oslcissaquah). Each evening, the youth participants will share some of their highlights from the day. These will then be posted to YouTube and shared with you!
3. Go online and catch some of the live streamed events from the Gathering (http://www.elca.org/ELCA/Youth-Gathering/Multimedia.aspx). The Youth Gathering evening program will be streamed each night, July 18-21, 7-8:30 p.m. Central Time with a pre-show warm-up beginning at 5:30, and worship on Sunday, July 22, 9:30 – 11:30 a.m. Central time.