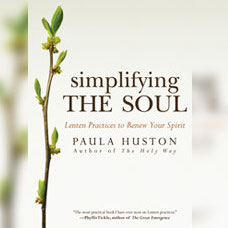 Each year at OSLC during the Season of Lent (begins on March 5 in 2014), everyone is invited to read a book together and engage in spiritual practices that enrich our lives individually and as a community. In 2014, our Lenten book is Simplifying the Soul, Lenten Practices to Renew Your Spirit (by Paula Huston). Huston is a Benedictine oblate who writes this book as an invitation for readers to declutter their minds, hearts, relationships and souls by trying out specific practices during the days of the Lenten season. The book can be used to reflect and integrate spiritual practices into your life each day from Ash Wednesday up until Easter.
On Sunday mornings during the Season of Lent (March 9 – April 6), Pastor Thomas will lead an adult class (9:45-10:45 AM in the OSLC Library) that will discuss experiences and learnings from the book. At our Wednesday evening midweek Lenten worship, the topics identified in the book will also be the focus of preaching and reflection. Here is a list of the chapter topics that will give focus to the weekly classes:
March 9 – Simplifying the Use of Money
March 16 – Simplifying the Care of the Body
March 23 – Simplifying the Mind
March 30 – Simplifying the Schedule
April 6 – Simplifying Relationships
A limited number of copies are available for purchase at the church ($12 each). They can also be purchased online or for e-readers through the Kindle store.