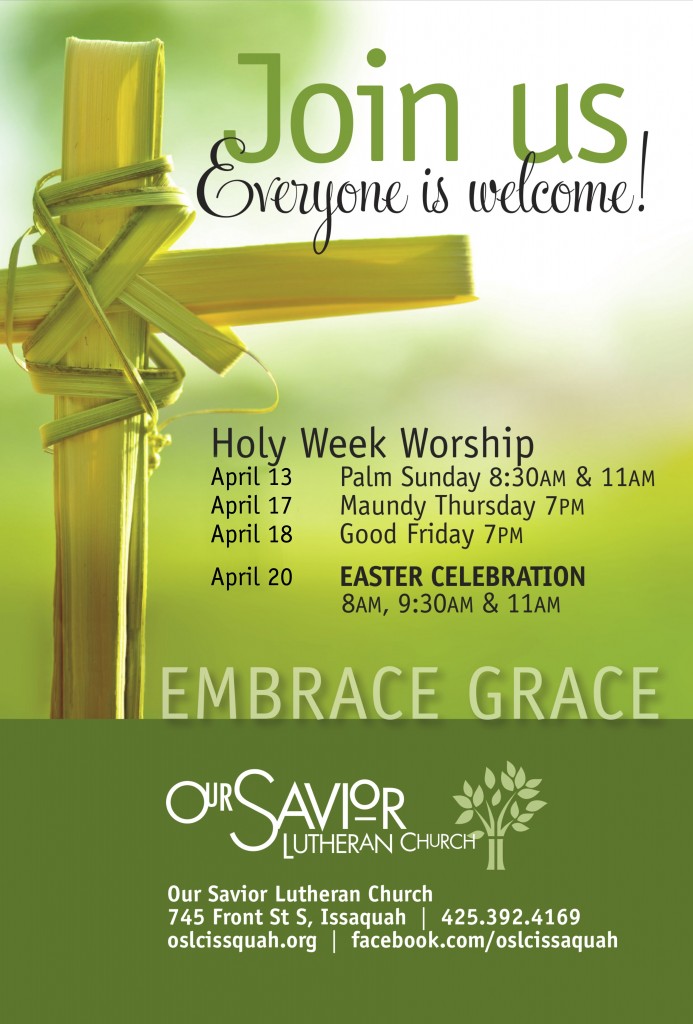 Come join us for Holy Week and Easter Morning worship at OSLC. From Palm Sunday on April 13 to the celebration of the Resurrection of Our Lord on April 20, the journey through Holy Week is both ancient and powerful. The most central story of our Christian faith is told through this week, and it is told through our participation together. Here are some details:
Palm Sunday (April 13, 8:30 & 11 AM) – We celebrate the beginning of Jesus' last days. As we wave palm branches, sing, and join in the story, this worship is filled with children's participation and a sense of joyful expectation.
Maundy Thursday (April 17, 7 PM) – On this night, we explore Jesus' ancient instruction that we love one another as we gather to share food and drink. The worship culminates as we join in a circle and share Holy Communion with a sense of those first disciples intimacy with Jesus.
Good Friday (April 18, 8 PM) – Darkness gathers and the reality of Jesus' suffering and the suffering of our world descends upon us. This worship features prayerful contemplation, Taizé music and Prayer Around the Cross. Together, we will light candles and hold vigil near Jesus' tomb.
Easter Morning Celebration (April 20, 8:00, 9:30 & 11:00 AM) – From the mystery, wonder, and darkness of previous days, we awake to the clear light of Easter morning. We celebrate Jesus' resurrection and victory over death for our sake and for the sake of the world. Alleluias ring out, as we join together with choirs and musicians on this most beautiful and joyous day.