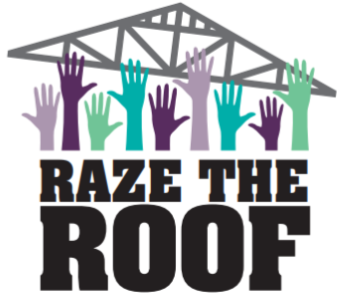 UPDATE: WE REACHED OUR GOAL!! A big THANK YOU to all who contributed your financial resources, time and talents in order to make this campaign a success. Please mark your calendars for a Raze the Roof Celebration after worship on Sunday, December 1st. Lastly, we are still accepting donations through November 15th. Any excess will go toward high priority building projects such as cleaning the portion of the roof that we aren't replacing so it lasts as long as possible. Questions? Contact Rick West, Building & Grounds Team, 425-830-8085.
All things are possible for one who believes. Mark 9:23.
As you probably are aware, we repaired a roof leak in Anderson Hall in May, 2019. That roof, the Narthex lower roof, and the Office wing roof need to be replaced or we'll be facing another leak soon. So, let's fix them now. Here is our challenge…
The total cost to replace those roofs with architectural 40-year shingles is $45,000. We have been offered an anonymous matching gift up to $22,500. So, for every dollar you give it will be matched up to a total of $45,000. What an opportunity!
Background – Anderson Hall/Library addition was finished in 1987, so, that roof is 32 years old. No wonder it leaks! It has been repaired at least five times. The office wing and lower Narthex roof are just as bad and have several soft spots meaning that the under plywood has already failed.
All these old roofs will be replaced with new vapor barrier, architectural-grade, 40-year, Certain Teed TM Landmark shingles, all new flashing (gutter edge, plumbing vents, drip edges, valleys, ridge cap) and with a lifetime warranty. (The Sanctuary, upper Narthex, and Sacristy roofs do not need to be replaced at this time.)
Roof Campaign Details:
Runs from Oct 13- Nov. 15, 2019
Work can begin as soon as Nov 15
Every dollar you give will be matched up to $22,500
You can use your contribution to meet part of your 2019 IRA -Required Minimum Distribution. (See your Financial Advisor)
Church contact is: Rick West at 425-830-8085 or

[email protected]

Please mark all your contributions "Roof Fund".