Please visit the preschool website at www.oslpreschool.org.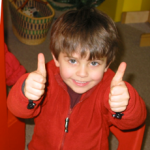 At Our Savior Lutheran Preschool, we begin with a firm conviction that every child is a beautiful gift worthy of the love and nurture of caring communities. Our teachers bring together an all-important blend of certifications and qualifications, as instructors, with a genuine passion to see each child thrive not only academically but in all aspects of their development.
Come visit our preschool, and you will find a place where the skill of teachers, love of parents, and potential of each child join together to foster exceptional growth.